*Cover image by Enuel Viera.
**Bride is fashion blogger Fallon from Casa de Fallon.
***I freaking love their pictures.  Seriously, if you're get married in Old San Juan, you need to check them out – Fallon's Wedding Photos.
You are about to learn the 5 best places to get married in Puerto Rico.
In fact:
These are the same 5 places I recommend to literally hundreds of brides and grooms looking for a simple, easy and perfect wedding.
So before you book some ridiculous hotel wedding package, take a look at these perfect wedding venues in Puerto Rico. (Check out my wedding packages in San Juan, Puerto Rico.)
1. Playa Pena Beach
Just outside the walls of San Cristobal is a lovely splash of sand called Playa Pena Beach.  When you walk down the steps to the beach, the hustle and bustle of San Juan fades away.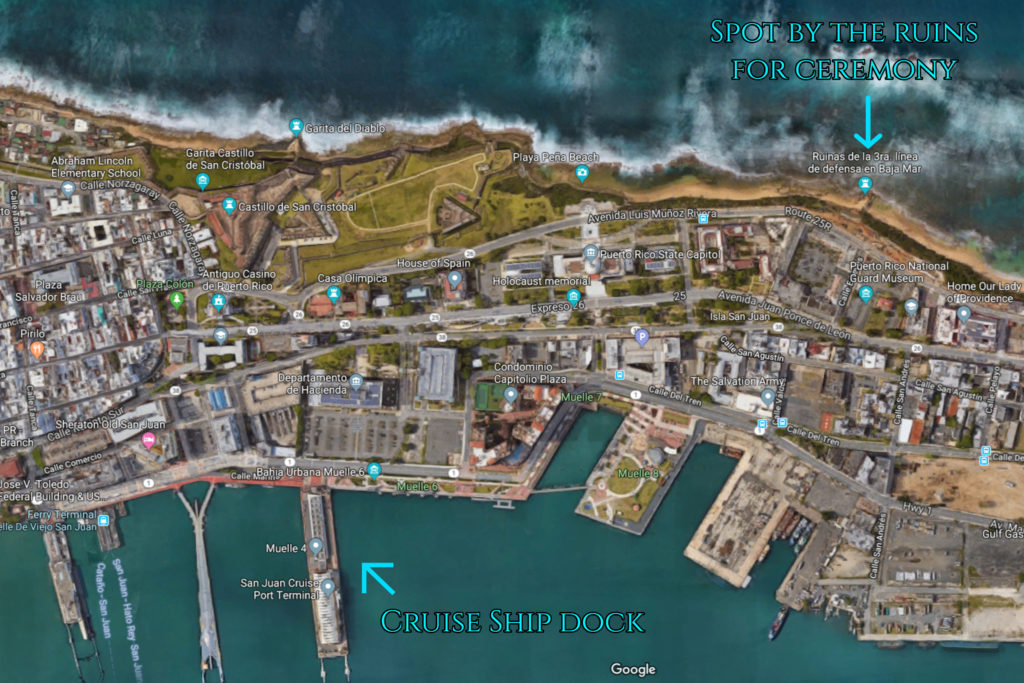 This underappreciated beach is seldom visited by more than a few locals.  The beach is long enough so that it's easy to find an intimate location for your wedding vows.  
What I love is the vegetation and rock formations that dot the coastline – including majestic palm trees.  A perfect setting for not only the ceremony but also spectacular photos.
Amenities are limited (or should I say non-existent), so we typically won't spend more than an hour on the beach as thirst (I mean how long can you go without a rum drink) and the possibility of nature calling can make a long stay unwise.
My favorite spot is a short walk down the beach with a short jump over some small rock/coral formations.  I definitely recommend bringing a pair of shoes or rugged sandals for getting over the rocks.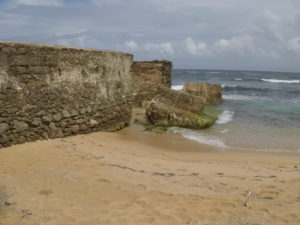 After the formations are the Ruinas de la 3ra. linea de defensa de San Juan (Ruins of the 3rd Line of Defense for San Juan).  Only a few crumbling walls remain but what a beautiful spot for a wedding ceremony!
I recommend Playa Pena if you are staying in San Juan (or Old San Juan) or coming to San Juan on a cruise ship.  It's centrally located, easy to get to and beautiful.
Having the ceremony by the ruins is usually only recommended for smaller groups and more sure-footed folks (so infirm, disabled or those otherwise inebriated or uncoordinated might want to steer clear of the ruins.).  Oh, and if you are wearing a fairy-tale, super princess wedding gown, you might not make it.
2. Escambron Beach
Escambron Beach is a popular beach location for guests and locals.  The beach can get crowded during the mid-day hours.  So if you'd like to have your
wedding here, we'll want to plan on having a morning ceremony (before 10 am) or a late afternoon ceremony (after 4 pm) to ensure the beach is quiet.
Many of my couples choose to have the ceremony on the lush grassy area just above the beach.  The views are spectacular and you can still hear the surf below.
There are also some fortifications if you'd like a more historic/gothic look to your wedding ceremony.  After the ceremony, we can still take pictures of the two of you with your toes buried in the sand.
The beach itself is dotted with palm trees.  A lovely Caribbean beach by any account.
And the beach has amenities such as bathrooms!  So Escambron is great for larger groups and also a great spot if after the wedding you want to have a beach day.  (Check out this in-depth guide to Escambron.)
Escambron is also conveniently located just minutes from Old San Juan, Miramar and Condado.
3. El Morro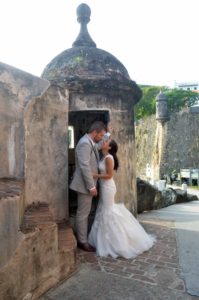 A crown jewel here in Old San Juan.  When I first started visiting El Morro, I would take my kids to run for hours on the soft rolling hills surrounding the fort.  I think I may be in violation of some law though because we've never actually flown a kite at El Morro (the fort's lawns are a graveyard, littered with the corpses of kites and kite string).
Anyhow, there are 2 options for your wedding ceremony at the fort.  Inside El Morro's walls or just outside.
The far easier choice is outside the walls.  The restrictions are fewer and generally planning all the details is simpler.  I'll walk you through the process, but for your own edification – San Juan National Park Rules for Weddings.
If you choose to have the ceremony inside the fort they have rules about timing, what you can set up, where you can set up and well, it can be a pain.
BUT
An evening ceremony in the fort with some lighting and decor might be one of the most beautiful sites I've ever seen.
There is a permit required to have a ceremony at El Morro because the fort is maintained by the National Park Service.
But don't worry, included in my package is the handling of all the permits and paperwork.
4. San Cristobal
Similar to El Morro, San Cristobal is a fortification in Old San Juan.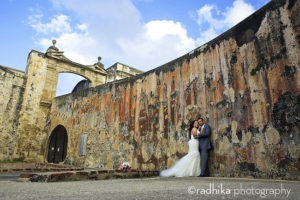 So much history.  So much elegance.
Choose inside the fort and share your vows on the same stones that have seen centuries of soldiers defending this Caribbean Island from invaders.
Don't sweat the permits and paperwork, the rules and regs of having a wedding are the same as for El Morro.
But let's not focus on the boring details.  Let's get excited about how stunning your wedding will be inside the walls of this picturesque gem.
5.Historical churches, fountains and other random PLACES TO GET MARRIED IN PUERTO RICO
Ok so I kinda played fast and loose with my original title.  That's because my 5th favorite place to get married in Puerto Rico is actually a bunch of different spots.  I mean in reality there are about 3,246 different venues to have a gorgeous ceremony in San Juan.
For instance, there are old alley ways or historic gates in Old San Juan where we could have the ceremony.  Literally dozens of random places that would look amazing as a backdrop for your wedding.
And instead of trying to name all 3,000+ locations, I'm going to share a few ideas and places to inspire you.  Some of these venues charge fees.  Some are free.  But all of them are worth a look.
Ok, so you're probably tired of hearing about another historic wedding venue in Old San Juan.
So…
…here's another historic wedding venue in Old San Juan.
El Convento is a true wedding venue in that you'll be paying out the nose but get excellent services including amazing food, dance floors, entertainment, etc.
If you have a larger group and a larger budget, El Convento is worth a look.
An off the radar venue as you're leaving Old San Juan headed into Condado.  Few folks know about or consider this quiet and delicious place for a wedding.  The views and proximity to the water should put San Geronimo on your short list of places to get married in Puerto Rico.
Fountain of our Roots (Raices Fountain)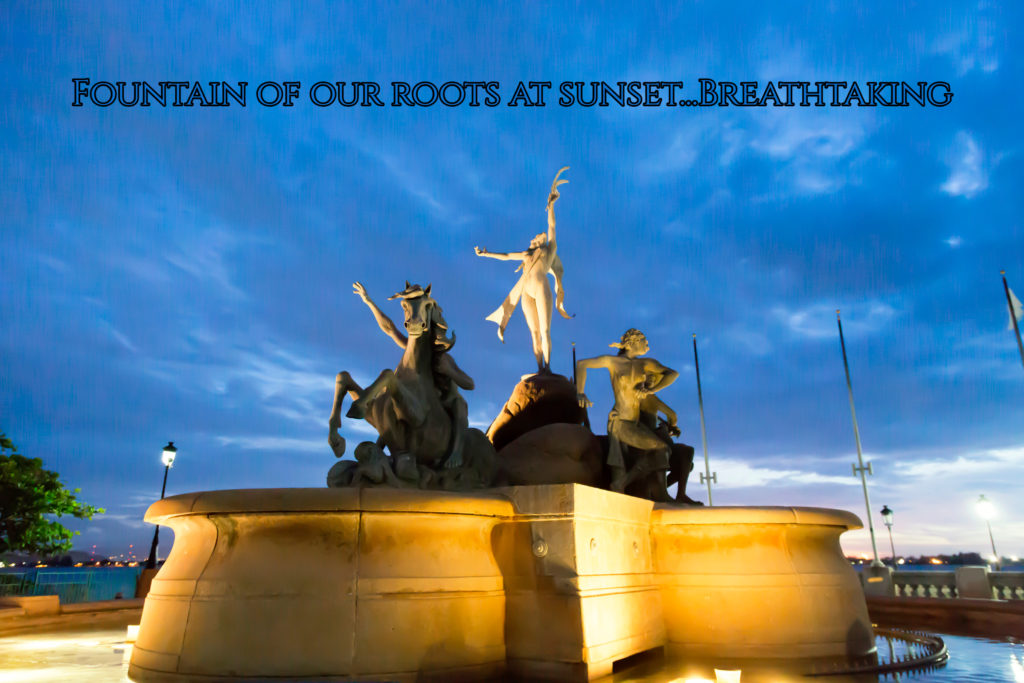 Public spaces intrigue me.  Not because I'm a voyeur.  I like the intensity of focus couples have when sharing their vows in an open space.
But seriously, a sunset ceremony with a Bob Ross painted sky might be one of the most romantic settings in the universe.
Final Note:
If you've done any research on wedding venues up to this point, you may have noticed I've left several popular wedding spots off the list:
1. Condado Beach
2. LaConcha
3. Vanderbilt Hotel
4. Stellaris Marriott
(This is my favorite resort in Condado.  So nothing but love for Stellaris.)
My wife, kids and I have spent too many hours on the beaches in Condado.  We love them.  But they are crowded and not as pretty for weddings.  While I'm not saying you can't have an amazing wedding on the beaches of Condado, I'm suggesting there might be more inspiring locations.
If you are staying at a resort in Condado or Isla Verde or somewhere else on the island, I am happy to perform your ceremony at any beach you like.  The convenience of staying at a resort and walking out onto the beach is unmistakable.  So we can definitely do it!
But if you want to do something a little different, fun and beautiful, get off the resort.  Go somewhere unforgettable and avoid making your wedding over priced and cookie cutter.
When you're ready to start talking Puerto Rico weddings and the best places for your ceremony…