Here they are in all their glory.
Aren't they beautiful.
Unlimited email and phone support to plan your wedding ceremony

Perform wedding ceremony and finalize marriage license
Unlimited email and phone support to plan all the details of your wedding ceremony.

Perform wedding ceremony and finalize marriage license

Includes 1 hour of photography (100-120 images)

Bridal bouquet and boutonniere
Transportation from hotel/villa/cruise ship to get wedding documents and to wedding venue

Perform wedding ceremony and finalize marriage license

Cost of marriage license and attorney fee included

Includes 1 hour of photography (100-120 images)

Bridal bouquet and boutonniere

Elegant 2-post arch with fabric

Champagne!

Rose petal aisle

4" Wedding cake (includes delivery and setup)
Let me now explain some of the finer details of what's included in my San Juan Wedding Packages.
But first…all of my wedding packages include a licensed minister from here in Puerto Rico.  And each of our officiants are trained by Wanderlust Bay Wedding Ministries.
1. Transportation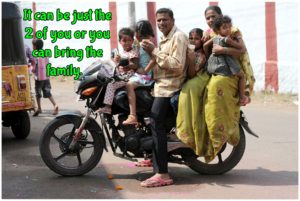 This is kind of a big deal.  Getting around this island is a bit challenging.  And I'm not talking about the street signs in Spanish.
I'm talking about knowing how to get from your hotel or villa or cruise ship to a lawyer's office, imposing government office, and then to your wedding venue all while trying to enjoy yourselves and not kill each other.
So that's why I make sure you have absolutely nothing to worry about…because isn't that the whole point of having a destination wedding?
At some point after you arrive at your hotel or villa/apartment/resort, we'll schedule a time to pick you both up.  We'll have 2 stops.
First, you'll need to visit an attorney.  (It's always best to see an attorney before you're married.  Seeing one after you're married isn't a good sign.)
The appointment will only take about 10 minutes.  The cost of the attorney is included in the package.
Second, we'll stop at another office to get your marriage license.
Afterwards, you'll be dropped off at your accommodations or wherever you like in the San Juan area.
Then, at the appointed time, your driver will pick you up and transport you to the wedding venue (and back after the ceremony/photos).
Is this a limo?  No.  But it will be a nice Van or SUV.
*And by the way, if you want to enjoy a cocktail or 3, having a driver is just good sense. 🙂
 2. A Wedding Ceremony in San Juan (and Old san juan)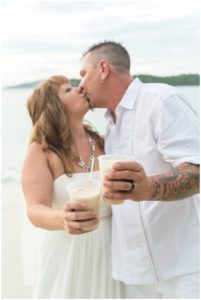 And we can incorporate fun or memorable elements in your ceremony…like the frozen rum drink unity ceremony!
Each of my wedding packages includes a Civil or Christian ceremony.  As far as venues, we can do it on a stunning beach with your toes in the sand.
Or
We can have the wedding at one of the amazing fortification or historic buildings around Old San Juan.
The National Park System maintains some of my favorite spots in Old San Juan.  I'll take care of getting the proper permissions and permits.
Some venues require a site fee.  Any site fees are additional and paid separately to the venue.
I am an ordained Christian Minister, along with my other officiant, so we can perform a Christian ceremony.  We can also perform a lovely civil ceremony.
3. Marriage License Fee and Lawyer Fee
When getting married anywhere in the world, you have to go through the bureaucratic junk to get make it all legal.
Puerto Rico is no different.  The whole process is relatively easy…if you've done it 10-20 times.
There are 2 fees associated with getting the marriage license.  The filing fee ($150) and the lawyer fee for your affidavit.
Please don't worry about it at this point.  Just know that I will hold your hand through everything.
Anyhow, my packages include these costs.
4. Photography
Your wedding will be captured by a professional photographer.  Our photographer will spend an hour with you.
Your photographer will be The Mango Works.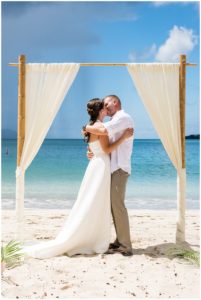 To give you an idea of how the hour might be spent (with a sample time line):
4:45 pm – groom arrives at venue
5:00 pm – photos of groom begins
5:05 pm – bride arrives
5:15 pm – ceremony begins
5:30 pm – ceremony concludes, couple's portraits, family photos continue
6:00 pm – photos conclude
After the wedding is over the photographer will edit the photos.  No photoshopping is done.  The editing includes culling, cropping and color correcting.
When the editing is complete, the photos will be uploaded to a private online gallery.  You'll have complete ownership of the images and have full release of copyright.  You'll be able to download the images to a drive to take to a print shop or you can order them directly online.
You'll receive 100 – 120 images.
5. Bridal bouquet and boutonniere & Rose Petal Aisle
If your wedding package includes a bouquet, you'll get to choose your flowers and/or colors for a stunning accent to your wedding ceremony.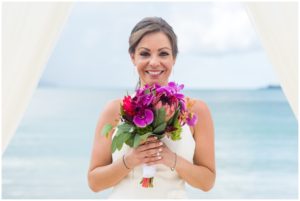 The bouquet is a standard size but if you'd like something larger or something kinda insane, just let me know and I'll get a quote from the florist. (The bouquet in the picture is a standard size, tropical bouquet.)
The bouquet will be delivered to the beach or venue and be waiting for you when you arrive.
If you'd like additional flowers such as junior bridesmaids bouquet, hair flowers or floral accents for the arch, just let me know and I'll get a quote.
For the boutonniere, the florist will use the same flowers/style to match it beautifully with your bouquet.
We work with several florists including Zuazo.
And nothing is more wonderfully elegant than a rose petal aisle.
6. Bamboo Arch and Fabric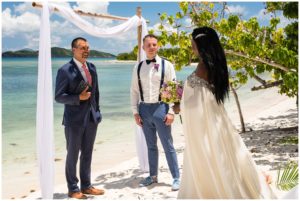 Included in one of my wedding packages is an elegant bamboo arch.  I really only recommend it for grassy or sandy locales.
So I'm personally not a huge fan of having an arch inside one of the fortifications.
The arch will be delivered and assembled prior to your arrival.  So when you arrive it will be ready to go!
7.  Champagne
Not long ago I could say that I was not a fan of champagne.  Give me a rum and coke or a bourbon on the rocks.  Occasionally a beer.
But I'd be lying if I didn't tell you that some nights I'll crack open a bottle for no reason at all…a delicious nightcap.
Anyhow, I'll bring a bottle of Champagne or Prosecco along with ice, ice bucket and champagne flutes (they are acrylic since most of the areas we'll be won't allow glass flutes).
8.  Wedding Cake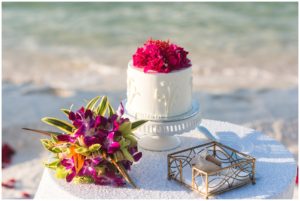 I once decided to go vegan.  I figured it was healthy.  It was prudent and a smart lifestyle.
But then I work in the wedding business.  And I'm around cake a lot.  And I've had vegan, gluten-free cakes.  They're good.  But not even close to a good, old-fashioned egg and milk based cake with buttercream.
Sometimes a long, healthy life must suffer at the hands of sinful pleasure.
So why not celebrate your union by feeding each other decadent cake.  Consider it practice for the wedding night.  🙂
Oh, and since you are getting married in Puerto Rico, why not go with a local favorite (or at least my favorite) – Tres Leches.
Other Wedding Goodies
My packages include many of the fun basics of a wedding ceremony.  But why stop there.
Wedding Music – Starts at $300/hour
Here in Puerto Rico, the culture and traditions are steeped in a deep celebration of life.  So spice up your wedding with some traditional island music!
Puerto Rico has uniquely inspired jazz, folk, and classical music.  So whether you want a full mariachi band or a solo guitarist, we'll find a musician or band to bring flavor to your wedding.
Or, I can bring a bluetooth speaker and you can bring a song list on your phone!
Chairs – $10/each
You can rent chairs for your guests.  They are $10/each + $35 delivery fee.  Just let me know how many you'll need and I'll line them up.
Should you get chairs?  That depends.
Chairs are great for large groups because they provide order and look nice in photos.  For small groups (less than 10) it might not be necessary unless you have older guests that might not be able to stand for long periods.
Videography – starts at $550/hour
Probably the must under used of wedding vendors is the videographer.  I think in the age of cell phones everyone thinks they can have a friend point a phone and tap record.
This does work.  But not well.  For a couple reasons.
Cell phones are terrible at picking up audio.  The slightest breeze and all you get are sounds of wind.
Family or friends are now responsible for taking the video.  Unless they are professionals, it's a strong likelihood they won't quite capture the moments as well as a professional.
Finally, video taken on a cell phone tends to never be watched again.
Ok, sorry for my rant.  I just get a little fired up when it comes to capturing your day!
Final Thoughts On My Wedding Packages
As I often mentioned, I'm pretty good with 94% of the requests I get when it comes to planning couples' weddings.
But recently I had a bride that wanted me to plan her wedding of 100+ guests to include favors, a boat trip and decorating her reception.  I could probably pull something like that off, but I usually recommend you work with a wedding designer/planner.  I don't want any premature wrinkles.
Again, if you want beautiful, affordable and blissfully easy, then I can help.
Well, this should get you started with planning your wedding here in Puerto Rico.
When you're ready to chat…
or
Call Me: 340-201-6069
Thanks!
Island Mike