An intimate wedding on a Caribbean island.
Spectacular sunsets.
The texture of soft sand between your toes.
Laughter blending with the sound of waves just feet away from your ceremony.
AND THEN A ROGUE WAVE KNOCKS YOU OVER AND YOU'RE COVERED HEAD TO TOE IN SAND AND SEA.
Don't let this happen to you.  I won't let this happen to you.
You see, there are rules to island weddings.  And these are those rules…or bits of wisdom to planning the perfect wedding here in Puerto Rico.
First off, the whole process is wonderfully simple and easy.  There's only stress if you want stress.  Or if your mother in law is the spawn of evil.
This is the Enchanted Island.  The weather is perfect.  The people are happy.  Life is good.
So don't gum things up by worrying!  I promise, I've got you covered.
1. What is the best time of year for a wedding in Puerto Rico?
The Caribbean is a study in boring.  Seriously.
It's the same thing over and over.  Every day.
Sunny.  Blue skies.  80s.
All this monotony can drive you to drink.
You can visit anytime of year and you'll be treated to near perfect weather.
But wait!
What about hurricanes?
Fair question.
Here's my answer for that:
Hurricane's are ridiculously unlikely to get in the way of your wedding.  If I was into statistics, I would put it at the same probability as the Cleveland Browns making it to the playoffs this year (update: I wrote this before Baker Mayfield took over as quaterback).
In reality, every 20 years or so a hurricane swings through our neighborhood.  Hurricanes are only "in-season" in August, September and October.
The chances are quite good your wedding won't be interrupted by a hurricane…so let's move on.
But…
…if you are one of those, "the sky is falling", I test my tire pressure every morning before getting in the car (this would accurately describe my wife), the solution is simple – set your wedding date the other 8-9 months of the year.
On the other hand, if you are willing to trust me, I would tell you there isn't a bad time of year to be in Puerto Rico.
Check out the annual temps here: Puerto Rico Average Temperatures.
2. The wedding venue
I've officiated weddings throughout the United States and Caribbean – California, Ohio, Puerto Rico, St. Thomas, St. Croix, St. John, Jost Van Dyke, Water Island, Antiqua…I think that's most of them.
And each island and location is different.  What sets Puerto Rico apart from almost every other destination is that it has every conceivable wedding venue you can imagine.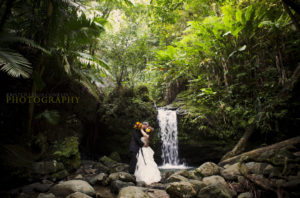 A rain forest – El Yunque (check out these amazing wedding photos from Kristin Leigh Conklin)!
Old forts – Castillo San Felipe del Morro & 

Castillo de San 

Cristóbal offer stunning architecture in Old San Juan.

World-class beaches – From San Juan to Dorado to Rincon.
5-star hotels scattered throughout the island.
So getting married in Puerto Rico means you have tons of choices.  When considering a venue, focus on your budget and the look you want.
If you're coming for the beaches, let me know and I'll share my favorites for a stunning wedding.
3. The Puerto Rico Marriage License (so easy, yet still so intimidating)
In some ways Puerto Rico has it all wrong.  It's like they try to make the process look difficult.
But I'm here to say that getting the license is easy enough when you know how.
I've found lots of old information on the internet, but I assure you, you have found the final word on getting legally married here.
Here is an entire article guiding you step-by-step for getting the marriage license.
4. Where to stay for your stay
AirBnb, Villas, homes, boutique hotels, grand resorts and every other imaginable accommodation awaits you on the Enchanted Island.  Today I'll share a few of my favorite spots in San Juan.
If you are a traditionalist, check out these large resorts:
1. Marriott Stellaris – love their kids pool and water slide!  Right in the heart of Condado.  If you have kids in the wedding group, this is a great hotel.
2. Caribe Hilton – they have a Denny's.  Nuff  said.
3. LaConcha – I've never stayed there but hear great things about it. Right in the middle of Condado.  5 minutes from Old San Juan.
4. Condado Vanderbilt – luxury all the way baby.  Leave the little ones at home for this one.
Boutique hotels include:
1. Hotel El Convento – old world style, ornate and historic.
2. O:live Hotel – hyper-modern, sleek and trendy.
3. La Terraza de San Juan – elegant and charming.  Roof-top terrace is amazing.
5. Wait, is this even legal?
Is getting married in Puerto Rico legal?
The marriage license issued by Puerto Rico is legal and recognized anywhere in the United States.
Puerto Rico is a United States Territory so rest easy knowing the marriage will stick. 🙂
(And Now An Unromantic Note: I hate to bring this up but people do ask – if for some reason the marriage is headed for divor*e, you would still file wherever you live in the United States.  You don't have to come here to end things.)  Ok, that was depressing.
6. But wait I don't speak Spanish
No habla Espanol?  No problemo.
I've been in Puerto Rico for around 6 years.  I know less Spanish now then I did during my freshman year in high school.
I can't think of a time where I had to use any Spanish other than to say, "uno mas mojito por favor".
So aside from the occasional cab driver and street vendor, almost everyone you meet during your stay will have either complete fluency or at least a good grasp of English.
One area that occasionally gets me are road signs.  Most of them are in Espanol.  Rely on GPS and you won't have any problems.
The locals always appreciate when a visitor tries to speak their native tongue, so fire away if you want to test your bi-lingual chops.
7. You're not getting married at a resort are you?
I seldom make friends when I say this.
When I'm traveling with my wife and kids, 95% of the time we're staying at a resort.  I love having room service, gift shops, 3 restaurants, 2 swimming pools and 400 employees to make sure my stay is relaxed.
Much of what I love about hotels is the exact reason why I recommend against having your wedding at the resort.
400 rooms with a thousand people.  People like my kids.  My 3 kids running around like animals just dying to crash a wedding.
Truly, most resorts have massive ballrooms.  And massive event staffs.  And massive price tags.
If you're coming all the way down to a gorgeous island, why would you want to spend your wedding reception in a ballroom.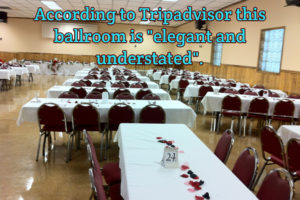 And why would you want to share your wedding ceremony with random beach goers on a crowded resort beach.
Look:
I've done hundreds of weddings as an officiant on resorts of every shape and size.  And most of them were lovely affairs.
But when I compare those weddings to the weddings I've done on remote beaches and in historical forts or churches followed by a reception in a stunning building far away from people like this:
8. The best time of day for Puerto Rico weddings
This could be the hardest advice I have to give.  But I have to give it to you straight.
If I were planning the perfect wedding, we' have it scheduled for 9 am.  10 am at the latest.
Again, this is my ideal time frame.  It's not the only great time, but it's the best in my opinion.
Here's why:
The lighting is superb.
As the day wears on, the sun can get pretty intense this close to the equator.
In the morning you'll have excellent lighting for photos but without squinting and sweating a lot.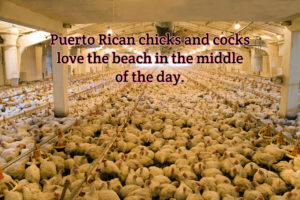 For beach pictures, the water will radiate and glow that time of day.
Another reason is the crowds.  When people are on vacation they usually don't wake up early to go to the beach.   We should have a relatively, if not entirely, empty beach for your ceremony.  No noisy kids or loud and drunk teenagers.
Ok, now let's look at another excellent time.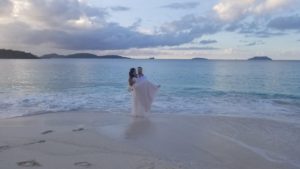 Depending on the time of year a 4 or 5 pm ceremony is perfect for catching the romance of a
Caribbean sunset.
In the late afternoon the sun lights up the sky with beautiful reds and pinks.  The water tends to turn a duller blue and no longer glows.
The look is more romantic, moody and sensual.
This should at least cover some of the most pressing questions you have.
OR
This article made you think of 37 other questions I didn't cover.  And that's a good thing!
I love to hear from couples and want to get you the information you need so you can plan a fun, easy and relaxed destination wedding here in Puerto Rico.
To talk with me about Puerto Rico wedding –
Call – 340-201-6069 or

Contact Me.